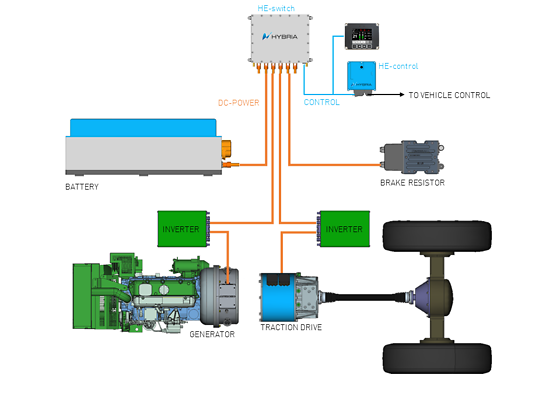 If you are looking for easy and fast way to electrify your vehicle, Hybria can provide all the needed support for development.​
Hybria's open drivetrain concept is targeted for non-road mobile machinery and special vehicles. Complete drivetrain delivery includes system design and simulation, components, control and system commissioning. It's the fastest and easiest way to do your first electric or hybrid machine.
The brains of a drivetrain is Hybria's proprietary control with easy configurability and open interfaces to all system components. The hearth is HE-switch power distribution unit and Hybria's battery.
The most applicable motors and motor controllers will be selected from Hybria's network.
Hybria's experience and efficiency provide the most cost effective way to build and integrate electric drivetrain to any vehicle.