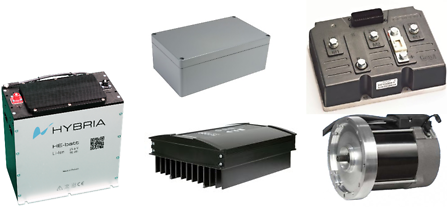 Battery electric power units
Power units are targeted to electrify hydrostatic machines such as man lifts, excavators, small dumpers and loaders.
Any hydrostatic machine can be turned to fully electric for operation in indoor conditions or crowded areas. Combustion engine is just replaced with Hybria's power unit.
System is based on Hybria's rugged battery module​. Needed capacity can be chosen with increments of 2kWh.
HE-power power unit includes:
High quality Li-Ion battery
BMS and Charger
AC-motor and controller
Power Distribution Unit
Display (optional)